Lana Parrilla est née le 15 juillet 1977 à Brooklyn dans l'État de New York aux Etats-Unis.
http://www.wetpaint.com/once-upon-a-time/articles/2013-07-23-season-3-spoilers-lana-parrilla-exclusive
Lana Parrilla at Entertainment Weekly's Annual Comic-Con Celebration at Float at Hard Rock Hotel in San Diego, California on July 20, 2013


Lana Parrilla's team of Evil Regals is about to get even bigger. When Wetpaint Entertainment caught up with the erstwhile Evil Queen at San Diego Comic-Con 2013, the Once Upon a Time star shared some interesting insights on Season 3 — including comparing the cast to the Avengers.

Dynamics are shifting aboard the Jolly Roger this year, and Lana notes that she felt like she's playing "Regina in a new costume trying to be this super action hero" as she shifts from trying to kill Rumplestiltskin, Hook, The Charmings, and Emma to picking them up from the floor (possibly literally).

Read on to see what sort of magic (or lack thereof) awaits Regina, why she could be "in deep s—t," plus why she loves "tormenting little children"!

Wetpaint Entertainment: So, what's happening in Neverland?
Lana Parrilla: I've completed one episode; I've read the second.  I know nothing. Nothing is ever really revealed in the first couple episodes anyway.

What do you hope for?
We're in the jungle! I'm excited! I want to roll up my sleeves and I want to get dirty. I think that I will say in the first episode, I felt like I was playing a different character. I think it's very action-oriented so there's a lot going on, and there are moments here and there where you really are seeing us have to work together and that's new. Different like, I don't like these people — why am I working with them? So I didn't feel like Regina; it felt like Regina in a new costume trying to be this super action hero. I felt like I was one of the Avengers, and I think that's what it kind of feels like in Neverland in the beginning. I'm sure it will all come together and be something amazing.

Robert [Carlyle] said that the camaraderie pretty much gets tossed overboard within minutes of the first episode. Does Regina end up with an unlikely allies?
I think there are some friendships that develop surprisingly to us villains and heroes.

Why is it surprising?
Because it's people that you're always trying to kill, and then all of the sudden you're having to lend them a hand and pick them up from the floor. I think that that's new for these characters. And it's not what Regina was expecting but … Henry's been kidnapped, so we need to find him, and we need to save him together. I think when you're embarking to a land that's foreign, it's probably best to work together. I think we're stronger as a team than individuals.

Neverland is grounded in magic, so will Regina see an increase in her powers?
I hope so — otherwise, oh s—t! What are you going to do? It's not like she is a badass sword fighter. I always think about that. I'm from Brooklyn and I grew up pretty rough and can fight, and Regina can't. There are times when I'm just like, "Ugh I just want to punch!" Regina is the princess and the Queen, so she doesn't even know how to do those things. But there's magic, and if her magic is taken away in Neverland, she is in deep s—t. So, I'm hoping her fireballs are bigger than they have ever been, because she will need them.

Last season, Regina struggled so much with trying to be the person Henry wants her to be while also being who she actually is. How is she dealing with that this season?
Like I said, we just completed the first episode, so I have no idea! She's going to be struggling with other things and I think that's what's happening right now with Regina. I think she's having to step out of herself and work in this group to get Henry back, and she's not as self-possessed — at least from what we shot in the first episode. I don't see her as self-possessed as she normally is.

What is your favorite version of Regina to play?
I love when she's up to no good. You can't really be like that in life or you get in a lot of trouble, and when you're a public figure, you really can't. You're on your best behavior. It's fun to live out those things in the character; I like it. I like tormenting the little children — that's fun for me.

Maybe on Neverland you can torment the Lost Boys?
Ooh, maybe! That would be fun!!

In the past two seasons, did you get to take home any mementos?
No, I haven't, although my niece has her own little Evil Queen costume that they made her. She's an amazing little girl, so she got one — I didn't get one.. But you know, my fans are so amazing and I love them so much. They give me the most incredible gifts, so I feel like I have so many from every season. I even have a shovel! Someone gave me a shovel from the episode when I was digging something! It has Regina Mills inscribed on it. I also get a lot of Evil Queen jewelry and feathers and stuff.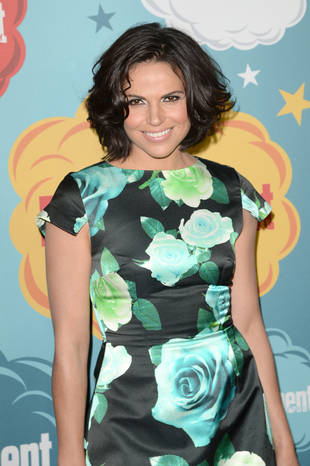 Sujets similaires
---
Permission de ce forum:
Vous
ne pouvez pas
répondre aux sujets dans ce forum