Page 4 sur 4 •

1, 2, 3, 4

Une petite interview de David Giuntoli qui nous parle de Nick le zombie et de la saison 3 de Grimm

Une petite amie pour Hank
http://series-tv.premiere.fr/News-Series/Grimm-saison-3-une-copine-sexy-pour-Hank-Russell-Hosrnby-3865171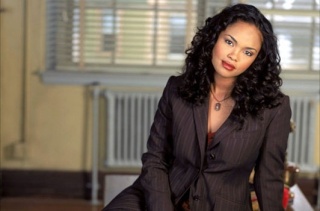 TV line révèle que Hank (Russell Hosrnby) aura une petite amie interprétée par Sharon Leal (Hellcats).
L'actrice Sharon Leal intégrera donc la série Grimmlors de sa saison 3, prévue pour commencer le 25 octobre aux USA, sur SyFy.
Tv Line révèle que l'ex actrice des séries Private Practice, Boston Public ou encore Hellcats, sera dans la saison pour plusieurs épisodes. Elle va jouera Zuri Ellis, une physiothérapeute dont Hank pourrait bien tomber amoureux. Pour le moment on ne sait pas quand sera fait cette arrivée...
Quelques mots de David
http://www.tvguide.com/News/David-Giuntoli-Grimm-1071378.aspx
TV Guide Magazine: Who doesn't want to play a zombie, right?
Giuntoli: Dream come true! Plus it's easy money. I can show up to work looking like hell and I have no lines to memorize. I can't wait for Nick to have a coma story.

TV Guide Magazine: How bad do things get?
Giuntoli: Really bad. Nick will do a lot of damage and he'll be forever changed as result of this. [Laughs] There's going to be a lot of zombie residue! It's like the Royal Families want him to recruit and control whole armies of Wesen. Their goal is to make him do whatever they want him to do, but things go horribly amiss. He's just like the other zombies we saw at the end of last season — the ones inspired by the original zombie-voodoo lore that came out of Haiti. Zombie Nick doesn't amble along the thoroughfare dragging his feet like the zombies on that, ahem, other show. He's wicked fast and all super-rage. He's total destruction!

TV Guide Magazine: Does the Scooby Gang know about this?
Giuntoli: They freak when they find out what's happened to Nick. They know how these zombies behave and they know how Grimms behave and that the combination could be insane. They'll use whatever means they can to either capture him or get him out of this state before he creates too much terror and panic.

TV Guide Magazine: And in non-zombie news?
Giuntoli: This season we have the wedding of Monroe [Silas Weir Mitchell] and Rosalee [Bree Turner] who are so cute and goofy together, I'm smelling a spinoff! [Laughs] I think it's great that we're promoting inter-species breeding! We also have sewer alligators coming, and a story of three sisters who are mermaids that is pretty grotesque and unsavory. It's certainly not the Disneyfied version of mermaids, not that there's anything wrong with that. I grew up with a major crush on Ariel!

Des spoilers sur la fin de la saison 3: un mariage mouvementé et la relation entre Nick et Juliette qui pourrait être "ébranlée"
http://www.theepochtimes.com/n3/655046-grimm-season-3-finale-spoilers-monroe-and-rosalee-get-married-all-hell-breaks-loose-date/
Grimm season 3 is wrapping up and the finale is coming on May 16.
The shows producers have disclosed that Monroe and Rosalee are getting married in episode 22, which is titled "Blond Ambition."
But the official description reveals that "their joy will only be matched by unexpected heartache for those around them."
Silas Weir Mitchell (Monroe) told TVGuide that "all hell breaks loose."
"There are no zombies, but lives change," he said.
Bree Turner (Rosalee) added: "This is the biggest episode we've shot. It's so major what we're trying to accomplish… and things [happen] that absolutely trump this wedding day."
The description also reveals that Nick and Juliette make a startling realization that "could shake their relationship to its core."
Meanwhile, Adalind proceeds with a delicately laid plan that leads to a catastrophic event that will alter the course of Nick's journey.
Co-creator David Greenwalt told TVLine that there are some issues that won't be resolved until season 4 starts next fall. The show has already been renewed.
We have doozies of cliffhangers that should be even more exciting than previous years," he said, adding that there will be "something kind of like a resurrection" during the episode, and that at least one character is "gonna get hurt."

Adalind




Messages

: 5


Date d'inscription

: 09/07/2013



Page 4 sur 4 •

1, 2, 3, 4

---
Permission de ce forum:
Vous
ne pouvez pas
répondre aux sujets dans ce forum