Joshua Dallas est né le 18 décembre 1981 à Louisville dans le Kentucky aux États-Unis.
Vous pouvez regarder tranquillement les photos là
http://www.bellomag.com/
J'aime assez celle-ci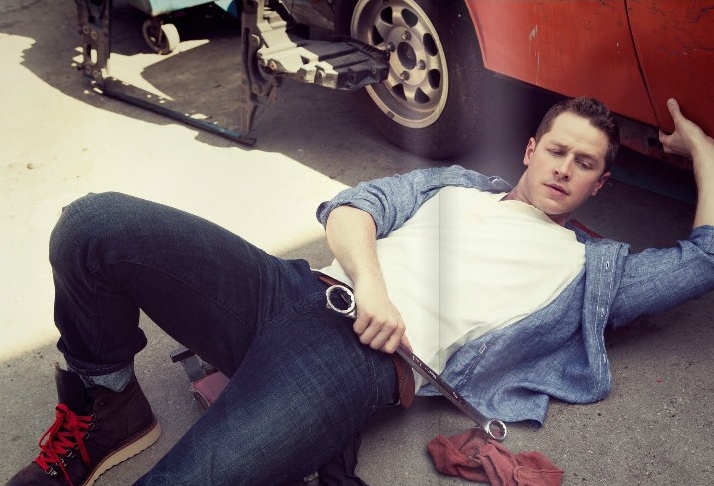 J'aime bien quand il est déguisé en Will Schuester!

Petit pois




Messages

: 125


Date d'inscription

: 28/05/2013



Ha oui, je n'avais pas fait le rapprochement
mais maintenant que tu le dis

En 2010, Josh Dallas apparait dans un épisode de Hawaï five-0.
L'épisode 6 de la saison 1 a pour titre 'Ko'olauloa'.
Un surfeur, "père spirituel" de Kono, est assassiné sous ses yeux lors d'une compétition à laquelle ils participaient. L'équipe s'emploie à retrouver le tireur.
Josh Dallas y joue Ben Bass,ancien champion de surf, reconvertit dans la lutte pour le protection de la planète  et un ami  d'une des enquêtrices de l'équipe de McGarrettde, Kono Kalakaua.  
Un article sur Josh Dallas. Tout en anglais ...
http://www.backstage.com/news/spotlight/josh-dallas-training-abroad-england/?utm_source=feedburner&utm_medium=feed&utm_campaign=Feed%3A+backstage%2FNews-Features+%28Backstage+-+News%26Features%29
Josh Dallas on Training Abroad in England
By Jenelle Riley Posted Aug. 23, 2013

Before "Once Upon a Time" Josh Dallas spent 11 years overseas working with such institutions as the Royal Shakespeare Company and the English National Opera. He tells Backstage about his time abroad.

"I went to a public high school in Indiana that had a really huge emphasis on the arts and a big theater program. When I was a junior in high school, you could audition for drama programs all around the world—mostly in the States, but there were a few overseas. You auditioned for them all at once. And a few weeks later, I got a letter from this one called Mountview Conservatoire for the Performing Arts in London, England, telling me that they were giving me the Sarah Exley Scholarship. It was basically a free ride that paid for everything, and it was given to an American every three years. I'd never left the United States, much less Kentucky or Indiana, so I said yes. It really was an offer I couldn't refuse.

"I learned a little bit of everything at school. There was a huge emphasis on the technical side, which is text, voice, movement, all of these things you kind of create from the outside in. So much work with the text, looking at the clues and the secrets that can unlock that door that leads to a flood of information you can gather about your character. It was a three-year program over there, as opposed to four-year programs in America. It's the same kind of degree, but they do it in three years, so it's very intense. Your first year, it's all foundation, foundation, foundation, which all starts in the classics. They also throw everything at you that you're good at in that first year. And then the second year, they throw everything you're bad at, everything you're not so good at, which is trying. You're working 16 hours a day, and you're doing things that you're struggling with, things that you're having hard times with. But it's good because what's the point of always working on your strengths? You have to discover your weaknesses and work those and figure out how to get around those and make those better and improve those things. And then the third year is all about performance, doing fully produced shows and plays and also devising your own pieces.

"I've never had an acting coach or gone to an acting college here in the United States, but it's the age-old question: What's the difference between British acting and American acting? British acting is undoubtedly based in text, and American acting relies more on behavior. That's speaking very generally. And I think it all comes down to the individual actor, because acting is largely an art of self-portraiture. So we're all kind of relying on our own emotional, mental, spiritual resources that we all have. But with British training, the text is the key to everything—it's the gateway to the character. You start with Shakespeare, and the keys to all those characters are all within the text, it's within the meter. American actors, I think, start from a more emotional, behavioral kind of way. And we just take different streets to get to the same house party.

---
Permission de ce forum:
Vous
ne pouvez pas
répondre aux sujets dans ce forum